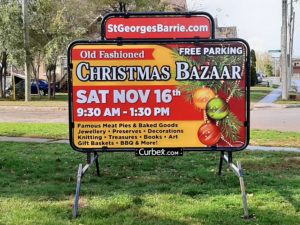 CHRISTMAS BAZAAR

–  Don't miss it!! Sat. Nov. 16 from 9:30 am to 1:30 pm.
FROM YOUR LEGACY COMMITTEE "Did you know that a Legacy gift to
St. George's costs nothing during your lifetime ."  Thank you for considering a legacy gift to St. Georges
We are updating the Anglican Newspaper.
If you would like to be added or if you have a change of address,
please contact the office.
 JUST IN CASE YOU MISSED IT
SERVICES – 8:30 & 10:30AM
DEACON'S CUPBOARD – The Deacon's cupboard
needs some replenishing…..if you are able to donate canned items……
canned vegetables.  soups, fruit…..it would greatly be appreciated.
You can drop items off to the office – thanks